I design
Tangible.
Interactive.
Experiences.
Award winning Designer, with 20+ years of experience across Product Design disciplines (Research, UX, UID, Interaction).
Cool things, Dev's Touch, always on. Translating abstract to real, experimenting and pushing the boundaries to make lovable things.
01


Ideate

From Idea to Concept, from Abstract to Real and right environment.
Branding
Creative direction
Research
Strategy
UX
User Personas
User Flows
02


Make it Grow

Revealing and journey to Concept's full potential and beyond.
Design thinking
Concept design
Information architecture
Wirefreaming
Prototyping
Usability testing
03


Let it Roll

Brand new or well-established - Product as a living entity.
Art direction
Typography
UI
Front-end
HTML5
CSS3
Mobile
Commercial photography
Solutions for


better city life
ENSOLV® Integrated is Technology Solutions integrator and services provider for existing Buildings systems and Predictive Maintenance provider. We implement the latest technologies in to existing building systems. The result is energy consumption optimization and building running cost reduction.
ENSOLV® Integrated Solutions
Our


Services

ENSOLV® Integrated provides the highest level of service and support for existing buildings overall improvement. Through detailed Building and FM activates audits all known and unknown issues can be identified and mitigate.

Improving measures through phase implementation will improve any building Energy and Maintenance efficiency and lifestile of building occupants.

read more

→
Benefits we provide


to our Clients

ENSOLV® Integrated provides benefits on multiple levels, from improved occupants lifestyle, Owner running cost reduction to Environment impact reduction.
Reduction of Building functional cost
Building Owner or Facility manager simple and easy overview of all systems functional levels remotely in real time
Maintenance cost reduction with retrofit and Predictive maintenance
Building Sustainability improvement and ESTIDAMA, Green Building, LEED category achievement
Lower running cost for remote off grid locations, boats with Efficient Sustainable and reliable CHP system
Building Tenants and Owners life style improvement
Building market value increase and attractiveness to potential buyers and tenants that drive EV cars
Compliance of Building functionality and connectivity with local authority mandatory monitoring requirements
read more

→
ENSOLV® Integrated, Efficiency is the key.
Client
ENSOLV® Integrated
Deliverables
Information architecture
Prototyping
UI
Dev
Description
Strategy, design and development of website for a building maintanance tech company.
IFFCO, Just Chill Drinks Co
Client
IFFCO, Just Chill Drinks Co
Deliverables
Description
New line of product photoshoot, studio location, IFFCO.
Welcome Superuser
Last Login: 12.11.2021, 17:30
System has reloaded configuration succesfully.
Message Board
| date | title | status |
| --- | --- | --- |
| 12.10.2021 | Subject: Funds topped up, success | solved |
| 11.10.2021 | Subject: Low Funds, Action required | unsolved |
| 11.10.2021 | Subject: Funds topped up, success | solved |
| 11.10.2021 | Subject: Low Funds, Action required | unsolved |
| 10.10.2021 | Subject: Welcome to the Board | read |
| 09.10.2021 | Subject: Funds topped up, success | solved |
| 07.10.2021 | Subject: Low Funds, Action required | unsolved |
| 05.10.2021 | Subject: Funds topped up, success | solved |
| 03.10.2021 | Subject: Low Funds, Action required | unsolved |
| 02.10.2021 | Subject: Welcome to the Board | read |
Swan, Credit Card Issuer Backoffice
Client
Araxatech
Deliverables
Product
Prototyping
UX
UI
Dev
Description
Swan, Fintech project, this time a credit card issuing backoffice design and development. Main task, beside the user flow, was to design extensive UI for huge amount of data to be visible across various devices, including mobile. It comes in a dark theme for long working hours.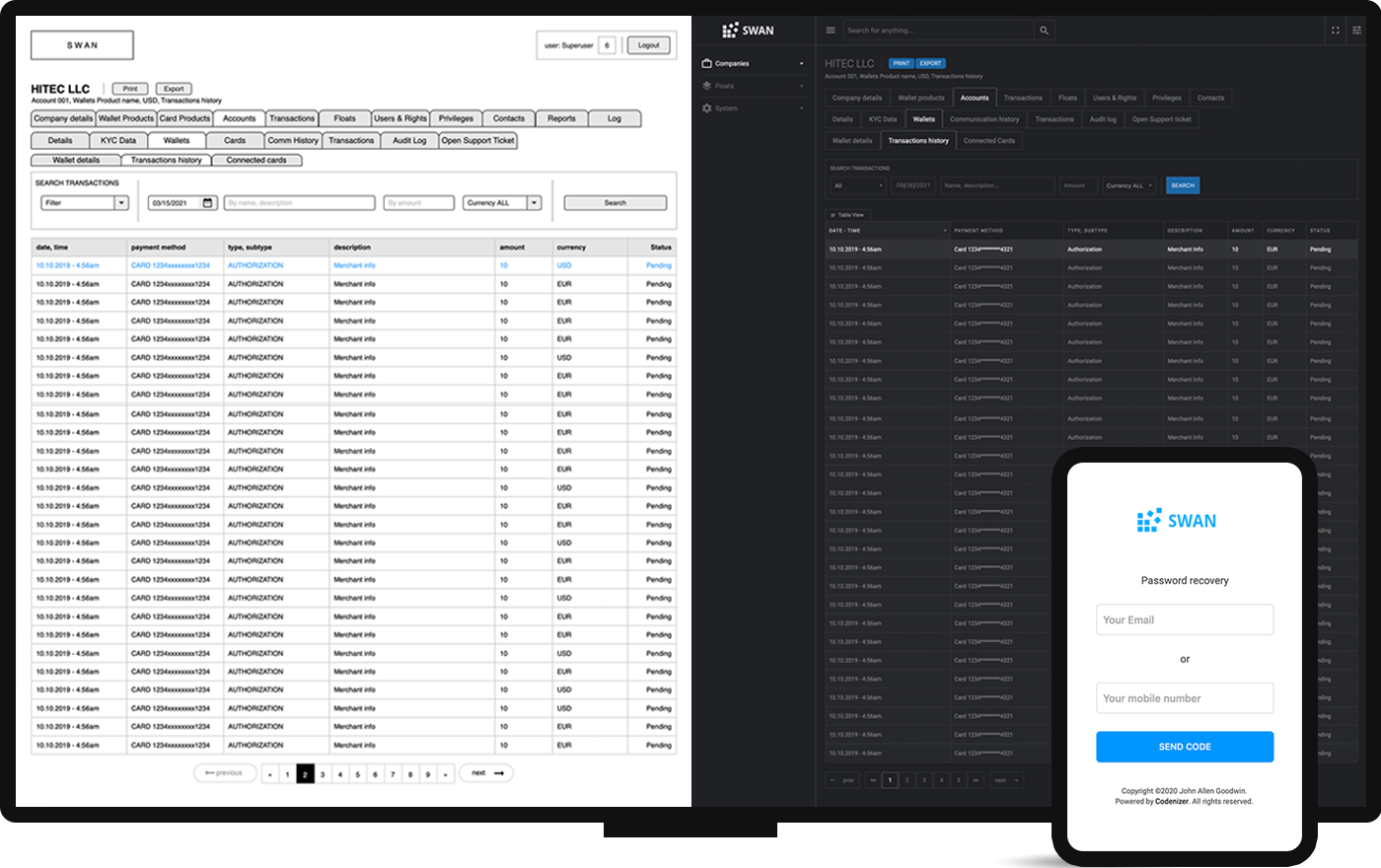 Product details
182 Wireframes pages, and still counting. Full HTML5 Prototype that helped producing Design system and multilevel login system
Editorial Photography
Photoshoots for Magazines, Press, Publications, Event coverages
Portraits, Corporate & Lifestyle Photography
Corporate and Lifestyle portraits in natural and studio lights, Lifestyle, Advertizing, Production Photography work, Corporate Identity, Image Library Production
Interiors, Architectural & Industrial Photography
Man made structures, fine lines and the best light in perspective, Hotels, Apartments, Retail and Offices, commercial and residential design aesthetics, Crafts and tools, Industrial environments
Barenova Photography
Client
Barenova Photography, personal
Deliverables
Description
Barenova Photography, Photographer's website, personal project, tailored solution for commercial photographer's portfolio as long as a creative space for his documentary photography work.
Become Independent of payment processor data structures with CONNECT
CONNECT is a highly adaptable data library providing an easy to understand data structure to payment processor clients.
Check out Connect →
Our vision is to improve lives globally by reshaping banking
Codenizer is a cutting edge fintech solutions provider with expertise in banking system architecture, advanced financial frameworks and payment solutions.
About us →
Our Services
Check our Services →
Fintech systems

A fintech product, like a puzzle, has many components. We help you figure out which fintech services you need for your product and how to piece them together.

Card Issuing

We architect and build flexible card issuing systems, offering solutions for a variety of card products. From physical to virtual cards, debit or credit to loyalty cards, we offer solutions that best fit your needs.

Multi-currency wallet

We offer end to end multi-currency digital wallet solutions. Our wallets are designed to deal with financial complexities, complemented by our easy to use back offices, your day to day operations become simple.
Our Clients
TXpay
MyMy
LaunchPay
HSBC
Our Partners
Digital Payment Solutions
Modul8
Globaly Present
South East Asia
Uk
The Eu
Australia
Serbia
(c)Codenizer, All Rights Reserved
Codenizer, Fintech Solutions Provider
Client
Codenizer
Deliverables
Product
Branding
Strategy
Prototyping
UX
UI
Dev
Description
Branding, strategy, design and development for young fintech solutions provider start-up and their website.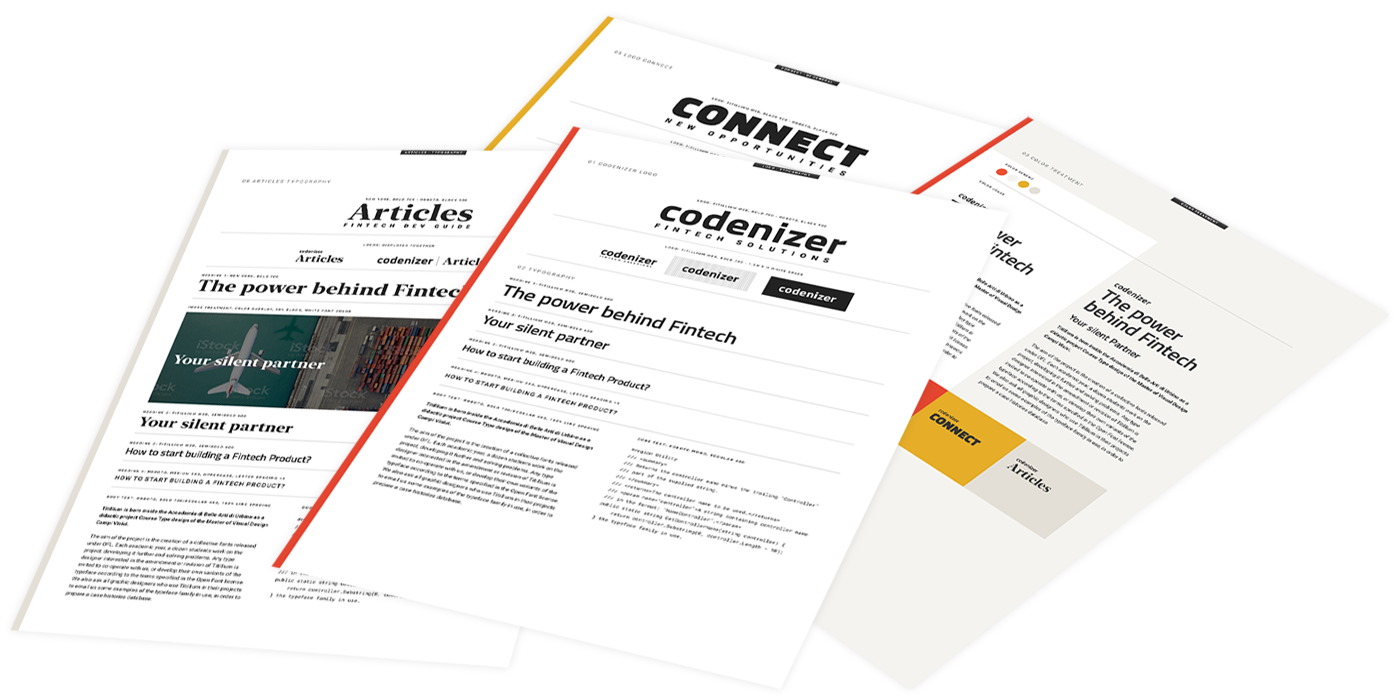 Branding
Extensive Identity for Startup Brand and it's Saas Product